Written by:
John Lennon & Paul McCartney

Released:
July 10, 1964

Appears on: A Hard Day's Night
Lead vocal:
John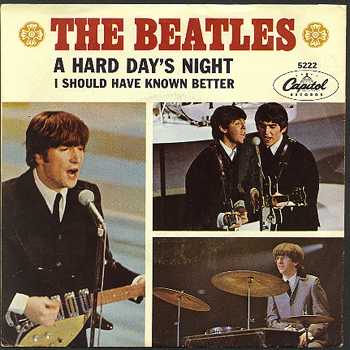 "I Should Have Known Better" is, in a way, a swan song. It is the last Beatles song to feature a harmonica intro.
Other than that, there probably isn't much to say about the song. The song is about a guy who really should have known better than to leave this fantastic girl. He never realized that "he would love everything that you do." (
And I do, hey-hey-hey...and I doooo!
)
In
A Hard Day's Night
, the Beatles sing the song (lip-syncing of course) while they play cards in this cage that they locked Paul's (very clean) grandfather into. The girls on the train find them and they watch the boys through the grate.
Of the seven songs that were used in the film, "I Should Have Known Better" is probably my favorite track, just because it's a lot of fun and has a great John vocal, especially during that bridge. When the harmonies come in to sing "
And when I ask you to be mi-a-hineeee/You're gonna say you love me too
", you just know that that's a special moment.
In the US, Capitol issued the song as the B-Side to "A Hard Day's Night", since Capitol could only release songs from the film on 45. (Although "Tell Me Why", the only song not released on a single, made it onto
Something New
.) So, it didn't make an LP appearance in the US until 1970's
Hey Jude (The Beatles Again)
, which was the first attempt to gather all the songs not released on Capitol LPs.