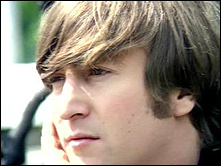 Written by:
John Lennon & Paul McCartney
Released:
June 10, 1966
Appears on: Past Masters, Vol. 2
Lead vocal:

John
"Rain" is such a special song because it really is the start of the Beatles as technical innovators. The song is just brilliant with its bizarre chorus and backwards vocals that hint towards the most intricate numbers on the next LP.
Ringo has always called "Rain" his best drumming with the Beatles and it's very hard to argue with this. Take away John's brilliant vocal, Paul thumping, in-your-face bass and George's amazing guitar and you're left with easily one of the best drumming in rock history.
The song's lyric is probably the first time John wrote a song where he seems to make himself an other-worldly being that knows how everybody does everything.

When the sun shines, they slip into the shade

...This is a guy who knows a lot more than we do. However, John has to get his opinion in:

Rain, I don't mind...Shine, the weather's fine!
The song, which was an obvious B-Side, never appeared on an LP on either side of the Atlantic until 1970's US LP

Hey Jude

. Then, it failed to make another appearance until another non-LP collection of tracks, 1978's

Rarities. Now, it is on the currently available set, Past Masters.
Like "Paperback Writer", promo films were made with Lindsay-Hogg directing. You can also see it at the official Beatles site and in the

Anthology

.
This song is definitely underrated. No matter how many times Ringo talks about it, though, he can't save it from this fate. "Rain" is much more an avant-garde track than anything The Beatles had done up to this point, so it was only ever going to be a B-Side. "Paperback Writer" was definitely the more commercial of the two tracks and is a terrific song, but "Rain" will always be in my top-10 list of favorite Beatles songs. It just shows how far ahead the Beatles were in comparison to the colleges. Can you imagine groups like The Hollies, The Rolling Stones, The Byrds, The Beach Boys or whoever else using backwards vocals? I think not.